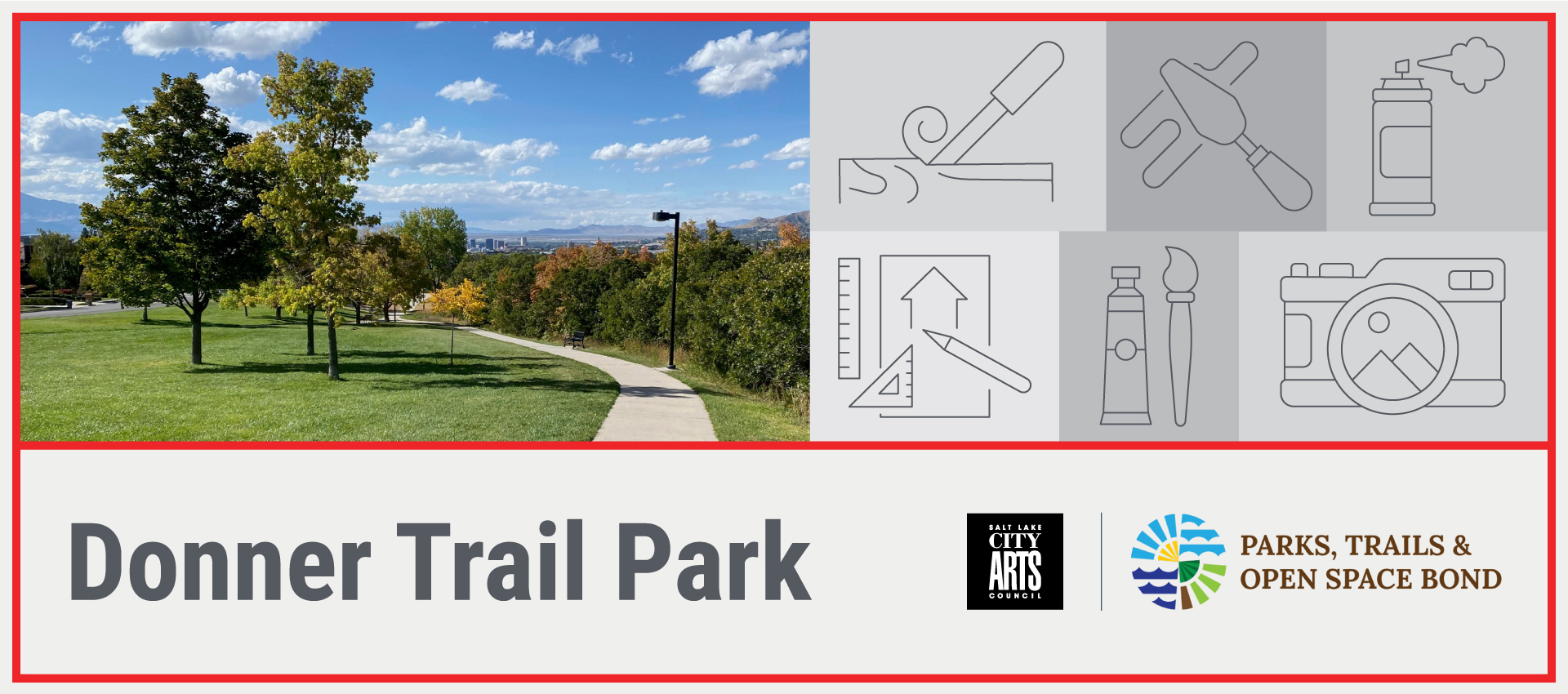 Public art project located on 2903 Kennedy Dr, Salt Lake City, UT 84108 Salt Lake City, Utah | City Council District 6
The Salt Lake City Arts Council is pleased to announce an opportunity for U.S.-based artists or artist-led teams to submit qualifications for the Donner Trail Park public art opportunity. This  project seeks to commission a site-specific art installation(s) that responds to the park's contemplative setting and/or the unique history of the site and will become the centerpiece of a "re-imagined" Donner Trail Park.
Situated in the Salt Lake Valley at the base of the Wasatch foothills, Donner Trail Park is a 14.27-acre park in the East Bench neighborhood of Salt Lake City.  Park users highlight the open space and nature setting of the site, in addition to the stunning views of the Salt Lake Valley experience from the park, particularly during sunsets. A "re-imagined" Donner Trail Park will maintain views of the valley and the peaceful environment. From May to September of 2023, Public Lands conducted the first phase of comunity engagement to understand the community's desires for the park and how they wish to see it improved. The feedback collected will to help inform decisions on how to proceed with the design phase, and ultimately implementation of the collective vision. Click here to read this Community Engagement report.
A final location for the artwork within the park has not been selected, allowing the selected artist and./or team to become integrated into the park's design team and have creative direction in determining how their artwork should be in the site's landscape architecture. The inclusion of a public art installation(s) at Donner Trail Park is supported by the voter-approved Parks, Trails, and Open Spaces General Obligation (GO) Bond. 
COMMISION BUDGET: $107,500 (total budget)

DEADLINE: Wednesday, December 6, 2023 by 11:59 pm MST

ELIGIBILITY: This Call for Artists is open to all professional artists or artist-led teams currently residing in the United States regardless of race, religion, gender, gender identity, sexual orientation, national origin, age, religion, marital status, political opinion or affiliation, or mental or physical disability.

SUBMISSIONS: All applications must be submitted through the CaFÉ (CallforEntry.org) website, link below.

INFORMATION SESSION: The recording of the applicant info session can be viewed here: https://youtu.be/y3RZdDZbrus
To access the presentation slides covered during this info session, please click here.
QUESTIONS: All questions regarding this RFQ are to be directed to the Salt Lake City Public Art Program by email at publicartprogram@slcgov.com. Please review the complete Call for Artists document prior to emailing any questions.

View the full Request for Qualifications here. 
SUBMITTABLE DIRECT LINK TO APPLICATION:
https://artist.callforentry.org/festivals_unique_info.php?ID=12633